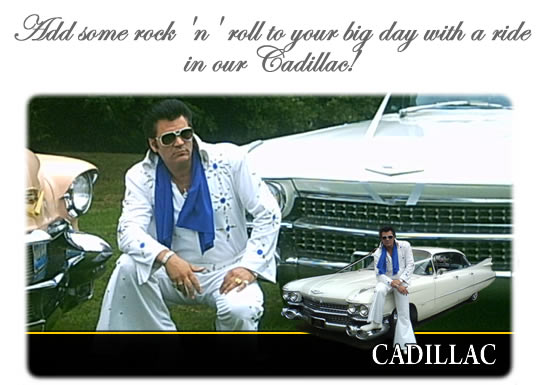 Rock 'n' Roll Cadillac
One of our most requested cars, this eye-catching Cadillac draws attention wherever its driven, so you can be sure to turn heads as you arrive at your Church or registry office service. Few cars can match the presence and styling of our timeless classic, which is carefully maintained by our team of in-house mechanics. Our Cadillac includes:
Comfortable leather seating (maximum 4 passengers)
CD stereo and radio
Period details
Traditional chrome bumpers
The distinctive Cadillac tail fins, popular on all models from this era
An unforgettable experience
Customers may also request our 'Elvis' lookalike chauffeur for the day. This can be a great way to add some more fun to the journey, and a great opportunity to capture memorable photographs. Decorative ribbons and silk flowers are provided for the booking at no extra charge. Add a rock 'n' roll flavour to your wedding day and get a quote for hire by calling us on 0800 197 6579, emailing enquiries@weddingcarsfarnworth.co.uk or completing the online enquiry form!